This has been a reasonably hectic seven days and we can now say we're in!
At last, Dryderdale Hall is the place we call home, where we eat and sleep and wake up to views from the bedroom window like this:
The dogs and cat are almost settled and Helen and I most certainly are. I may well be down to my last pair of pants but a plumber visit this afternoon should soon resolve that.
My intention is not to write this blog every day, (and so far I've certainly kept to that) but to communicate the projects and challenges we undertake to make Dryderdale Hall an even more wonderful home for us and a fantastic place for friends and family to vist.
Well, that's it. I just heard that we have exchanged contracts. Dryderdale Hall is finally going to be ours.
We'll get the keys next Friday and begin moving in on Saturday. Let's hope the snow holds off.
It was way back in 2005 that I first encountered Hamsterley Forest when I started riding my mountain bike. Initially, I really hated the place because I mainly associated it with lung busting climbs as my fitness was improving and, to be fair, that didn't really change when my fitness reached a level that enabled me to enter the TransRockies mountain bike race in Canada in 2007. Whilst training, the pain of the climbs was the same but my relationship with the Forest had changed to a love hate one. I hated the pain of the climbs on the mountain bike and at the same time loved the beauty of the Forest.
Whilst riding I would look at the few houses that were nestled within the Forest and wonder what it would be like to live there, having the expanse of Hamsterley Forest as my back garden, and it was whilst at the peak of my training in 2007 that I first saw that Dryderdale Hall for sale.
It was completely the wrong time for Helen and I to consider moving there, though we did look at the details of the house, taking it no further. We just let the opportunity pass us by and gave it very little thought. Fortuitously, whilst sat in Mucho Gusto, our regular coffee house in Hexham, some four years later, Helen opened a magazine and found that Dryderdale Hall was again for sale.
We had lived at Bankfoot Cottage for twelve years and had always maintained our intention to develop it, however, for many, many reasons we just never really committed to the decision until, in June 2011, we finally decided that we would develop Bankfoot Cottage into the home we knew it could be. We had found an architect and were busy making plans for just how we were going to develop Bankfoot and were really happy with our decision. And then Helen opened that magazine.
As I drove up the 3rd of a mile driveway for my first visit to Dryderdale Hall, I was immediately taken by the flowering rhododendrons and the beautiful trees that lined the driveway on the approach. As the Hall came into view I knew immediately that it had to be ours. I had fallen in love with it. All that was needed now was to have Helen feel the same.
I returned home to Bankfoot to meet Helen, making a conscious decision to contain my enthusiasm for Dryderdale Hall. I really wanted Helen to make a decision based purely on how she felt about it rather than how I may feel, so I arranged for her to visit the Hall on her own.
As I look back now I feel that we were both containing our enthusiasm for the sake of each other, creating a space for us to make the right choice. We made a couple more joint visits before we knew it was time to decide, the best course of action being to take a piece of paper each, write down what we had decided and then to exchange papers. Needless to say we have both agreed.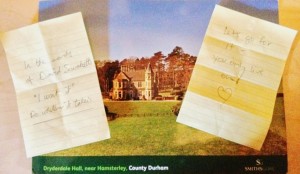 YES!
So, that has led us to where we are now. Just a few days away from exchange of contracts and then completion, when Dryderdale Hall will finally be ours.